New Cars Added Into Fleet
Types of Car rentals
Tata Indica V2 Hire Bangalore
Tata Indica V2 Hire Bangalore ,True to the tradition of the Tata Group, Tata Motors is committed in letter and spirit to Corporate Social Responsibility. It is a signatory to the United Nations Global Compact, and is engaged in community and social initiatives on labour and environment standards in compliance with the principles of the Global Compact. In accordance with this, it plays an active role in community development, serving rural communities adjacent to its manufacturing locations.
Tata Indica V2 hire bangalore,Tata Motors believes in technology for tomorrow. Our products stand testimony to this.Our annual expenditure on R&D is approximately 2% of our turnover. We have also set up two in-house Engineering Research Centres that house India's only Certified Crash Test Facility. We ensure that our products are environmentally sound in a variety of ways.
India's favorite family car now comes with added muscle - The all new Tata Indica V2 Turbomax. A powerful 71 PS BS4 engine delivers an incredible 19 kilometers to the litre. The widest cabin in its class comfortably seats five. And state-of-the-art safety features make it the ideal car for the family.
Car Rentals Diffrent Types
Premium Car Rentals
For personal and friendly service book your car rental with us. We operate a large fleet of premium cars for hire, which include Chevrolet Optra, Toyota Corolla, Maruti Baleno.
Luxury Car Rentals
We have a wide range of Luxury cars including Mercedes Benz, Mitsubishi Lancer, Model Viano among others. Luxury car is usually more comfort, design all luxury cars.
Economy Car Rentals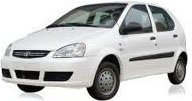 The cars running speedily on the unending streets remind us of the mind who invented these machines which made man capable to race against time. In the past few years the.
Contact Us
To give the best times to our customer when they are under our service. To build a technology driven, nationally networked personal ground transportation and luxury car services to our customers. At Shrusti Travels, you will find a team of dedicated professionals, each contributing their optimum expertise to deliver and ensure complete satisfaction to our customers. We give you a rich experience of luxury travels.
Address
Shrusti Travels T-9, Shalimar Arcade, 3rd Floor # 189/44, 10th cross Wilson Garden, Opp to Redfield Bus stop, Bangalore -560027